From Montreal to Mumbai: A Journey of Contrasts
July 1, 2023
How Flight Booking Agencies Work in Canada
July 21, 2023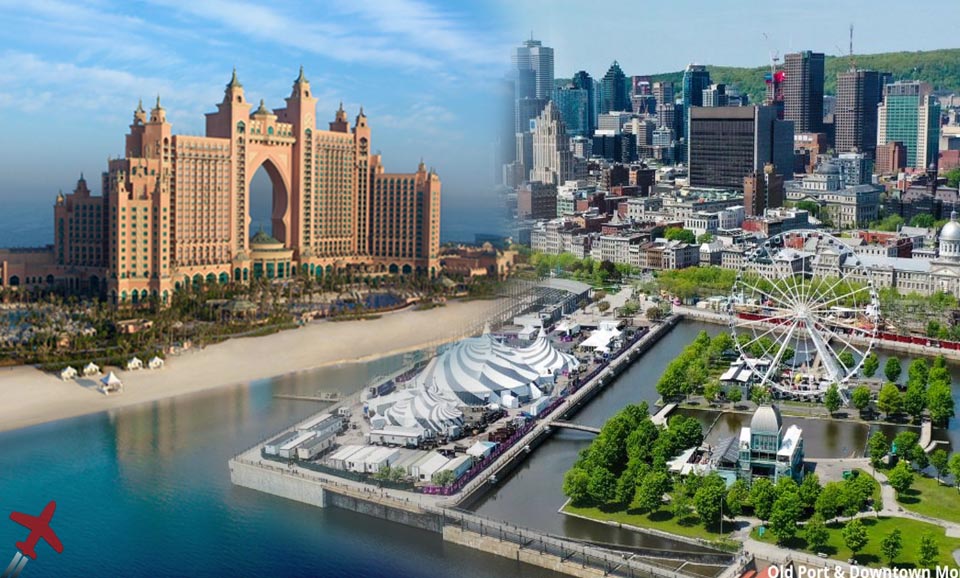 From Dubai to Montreal: Emirates
From Dubai to Montreal: Emirates' New Route Unveils Exciting Travel Possibilities
Here's a sample itinerary for a Journey from Dubai to Montreal:
Emirates, one of the world's leading airlines, celebrated a significant milestone with the launch of its daily service to Montreal, Canada. The inaugural flight, operated by a Boeing 777 aircraft, signifies the airline's second gateway into Canada and further strengthens its presence in North America. With this new service, Emirates now offers a total of 14 flights per week to Canada.
Emirates executives, including Adnan Kazim, Chief Commercial Officer; Salem Obaidalla, Senior Vice President of Commercial Operations – Americas; and David Broz, Vice President Aeropolitical and Industry Affairs, were present on the inaugural flight. The aircraft, equipped with premium passenger services, touched down at Montréal Pierre Elliot Trudeau International Airport at 0830hrs local time on 5th July. The landing was met with great enthusiasm from airport officials, aviation authorities, aviation enthusiasts, and media personnel, who were eager to capture the historic moment.
Upon arrival, a VIP delegation from Dubai, which included Essa Sulaiman Ahmad, Emirates' Divisional Vice President – USA and Canada, and Shaz Peshimam, Emirates' Country Manager for Canada, received a warm welcome. A welcome ceremony and symbolic gift exchange took place, involving representatives from the airline, airport officials, and Montréal's tourism board. Subsequently, Emirates showcased its Boeing 777-300ER aircraft, featuring a three-class configuration, to government representatives, media personnel, guests, and members of the travel trade industry. The aircraft boasts eight private suites in First Class, 42 lie-flat seats in Business Class, and 304 spacious seats in Economy Class.
Adnan Kazim, Emirates' Chief Commercial Officer, emphasized the significance of the new destination, stating, "Emirates is excited to launch our service to Montréal, and to grow our network with a second gateway into Canada. We take this opportunity to thank the UAE and Canadian authorities and partners for supporting the launch of the service, which is expected to positively impact tourism, business, and trade in both countries."
Kazim further added, "Complementing our services to Toronto, customers will now have more choice when planning trips to Canada – they now can fly directly to the country's second-largest metropolis whether for business, leisure, education, or for visiting family and friends. Since we announced our plans to launch direct services to Montréal, we have witnessed healthy bookings from travelers planning trips to Canada from points in the UAE, India, Iran, and Lebanon, in addition to many Far East and African countries. The strong demand is testament to the quality of our product and travel experience we provide. We look forward to welcoming our customers onboard to experience our 'fly better' proposition across all classes."
Philippe Rainville, President and Chief Executive Officer of ADM Aéroports de Montréal, expressed his excitement about Emirates' services to Montréal, stating, "ADM Aéroports de Montréal is delighted to welcome one of the world's most prestigious airlines to YUL for the first time. This is an exceptional opportunity for our passengers to live the Emirates experience on a flight that will take them nonstop to the majestic city of Dubai. For an international airport like ours, this is particularly exciting news, especially since this route will offer arrivals and departures at less busy times of the day. It's very much in line with ADM's goal of offering more connections to popular destinations outside of peak travel times. We are very privileged that Emirates has chosen YUL as the second Canadian airport for its operations in the country."
The addition of the new daily service to Montréal complements Emirates' existing seven weekly services to Toronto and expands the airline's North American network to 14 destinations, with a total of 18 across the Americas. The service provides travelers from Canada with convenient access to Dubai and seamless connectivity to popular destinations such as Lebanon, India, Iran, Vietnam, and Malaysia.
Yves Lalumière, President and CEO of Tourisme Montréal, welcomed the new direct flight and acknowledged its importance in expanding the city's air network. He stated, "This new direct flight is an important step in the expansion of our air network and reinforces our position as a leading tourist destination. It opens up countless opportunities for both leisure and business travelers. Thank you to Emirates for making Montréal more accessible than ever to travelers from all over the world wishing to discover Montréal's rich culture, diverse gastronomy, and vibrant festivals. Welcome to Montréal!"